I have lots of Ancient Irish art books and one consistent sadness in reading them is how often I read

On display in the British museum

The British empire just took them on behalf of the Royals (mafia boss) at the head of the system, same as they just took the jewels of India, Africa etc..etc..,

When I say they, this happened long before folks alive today. no one is physically to blame now. Though ye could argue that many multinationals today effectively do the same. The British empire was just a franchise!

Unless folks know about the theft they will be ignorant of the wealth stolen and nothing will be corrected.

It is not about money, it is about our culture and our ancestors pride, and to not just accept that the theft of their work was ok.

How do folks think places like Buckingham palace were built?

when folks see the Villas of drug barons in Spain they know how they got the money.

But often When folks marvel at the beauty (which is to be seen fair enough in the architects skill) of Buckingham palace, they see glory and supposed culture!

imo, they should at the very least wonder how the feck did they get the money?

answer = theft

On display in the British museum

It always hits my stomach when I read that , I do not know if anyone has even made enough (or any) fuss about it

example
St Cuilean's bell circa 1100 AD

Bearnán Cuileain

A beautiful Gold Mass bell, which was originally enshrined wiht interlacing as well as human and animal heads damanscended with inlaid Silver strips and niello.

Found in a tree stump at Glankeen Co Tipperary

taken and put on display in the British museum, it is not their culture, it is not theirs, they should give it back.


british theft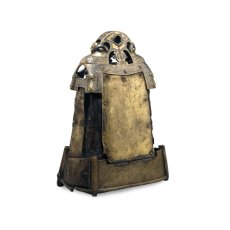 St Cuileáin's bell shrine

Irish, 7th or 8th (iron bell) and early 12th centuries AD

From Glankeen, County Tipperary, Ireland

A powerful lie detector

This magnificent bell-shrine is said to have been recovered from a tree at Kilcuilawn, and has survived rough treatment. The ancient iron hand bell inside was first used to call members of a monastic community to prayer. It comes from the ancient monastery of Glankeen founded by St Cuileáin in the seventh century. St Cuileáin was a powerful figure, the brother of Cormac, king-bishop of the rocky stronghold of Cashel nearby. It was venerated and later enshrined as a relic associated with him.

The iron bell is now incomplete. The elaborate outer brass case was added in the twelfth century. The case was cast in sections, some of which are missing. The front is now bare iron but once carried a jewelled cross. The surviving main plate engraved with a cruciform pattern is the back. The elaborate openwork crest at the top is inlaid with copper and silver wires and further embellished with black niello and enamels. The intricate ornament is an Irish version of the Viking Ringerike style. It includes a typical looped knot on the front and a huge animal's head on each shoulder.

The early medieval custom of enshrining the belongings of the founders of churches and monasteries came to a second peak in Ireland under royal patronage in the twelfth century. As well as bells, items including staffs (such as the 'Kells crozier'), holy books, clothing, bones and teeth were cherished by later generations. Up to the nineteenth century the hereditary keepers of this bell, the Béarnan Cuileáin, used its power to detect false oaths; liars risked their heads being reversed.

Height: 30 cm (including shrine)

Width: 24 cm

M&ME 1854,7-14,6

Room 41, Sutton Hoo and early Medieval, case 28, no. 1



more british theft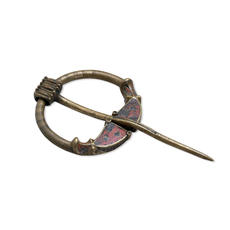 Penannular brooch

Irish, late 6th - early 7th century AD

From County Cavan, Ireland

Typical clothes fastener of early medieval Ireland

Both men and women of rank in Ireland wore brooches of this form: first the pin was stabbed through the folds of a cloak and then one end of the ring was pushed under the sharp end of the pin where it came out of the cloth. The ring was then turned until the pin tip lay securely locked in place beyond the raised bump of the decorated terminal.

This fine brooch has been cast in bronze and the pin and expanded ends of the ring are inlaid with bright red enamel. The addition of pieces of colourful millefiori glass is a distinctive feature of Irish jewellery at this period. The bronze collars show the smith experimenting with ways of fixing the glass when the enamel was heated. There is also simple stamped and incised decoration on the back. The front may have been tinned to give it a rich silver look.

The term 'penannular' is used for brooches like this which have a gap in their hoop. On eighth-century Irish brooches, like the Londesborough brooch, the terminals are enlarged and the space between is filled with added decoration but they still show that they have developed from this open-ring type.

Diameter: 7.3 cm

Length: 13 cm (pin)

M&ME 1856,3-20,1

Room 41, Sutton Hoo and early Medieval, case 26, no. 11



more british theft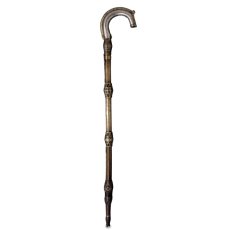 The Kells crozier

Ireland, late 9th-11th century AD

Irish religious relic found in London solicitor's office

This fine crozier was found without explanation in a solicitor's office in 1850, and was owned by Cardinal Wiseman before purchase by The British Museum in 1859. Originally it would have been venerated as a relic of a saint in the early church in Ireland, and also been a symbol of office for a leading cleric, possibly a bishop or abbot.

The appearance of the crozier today is the result of at least two periods of ornamentation as well as early attempts to dismantle or destroy it. The core is a staff of yew wood, now cut in two. This was first encased in bronze in the late ninth or tenth century when the staff was decorated with cast knobs (or 'knops') and cross-shaped strips. Raised borders divide the knops into panels filled with animal interlace, once covered with bright silver foil. The original bronze casing to the curved crook had a diamond pattern grid and animal ornament.

In the eleventh century the crook was given an outer casing of silver sheet and a new crest in gilded openwork of linked birds. A new knop decorated with black niello and silver inlay in the Scandinavian Ringerike style replaced an earlier one at the top of the shaft. The straight end of the crook is a feature of early Irish croziers, and like many others it was altered to form a hollow box with a human head above, to hold a holy relic. On the underside of the crook a silver strip engraved in Irish asks for a prayer for Cúduilig and Maelfinnén who were involved in the refurbishment. Although these names have been identified with individuals who were important at the great Irish monastic city of Kells, County Meath, recent work has questioned this connection.

Enshrining items which had belonged to holy men or their communities was an important feature of religious life in early medieval Ireland. Many of these shrines, like St Cuileán's bell, were preserved into modern times by the families of keepers who inherited this duty.

Length: 133 cm

M&ME 1859.2-21.1

Room 41, Sutton Hoo and early Medieval, case 29, no. 1



more british theft of Irish cultural treasures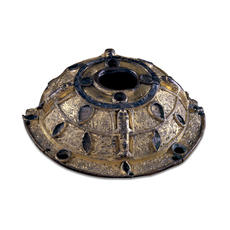 Shrine boss

Irish, AD 700-750

From Steeple Bumpstead, Essex, England

Reused as the handle-plate on the parish church

This once sumptuously decorated boss would originally have been attached to a shrine, along with four others, to form a cross-shape. It was apparently found in the church during construction work, stored in a chest and then attached to the chancel door where it was noted in 1842.

The boss was cast from a wax or lead form in bronze and then thickly gilded. The decoration is divided into bands of different ornament. Each band is divided into panels by a variety of twenty-four settings. These are now all empty but once held glass, crystal or amber giving the boss a rich glittering appearance. Four highly stylized lions crouch on the sides and divide the boss into quarters. At the top is a ring of black niello framing plain gold troughs once filled with panels of filigree. The ring surrounds a big hole where a large setting once lay. On the sides is a band of complex animal interlace while on the bands below and above there is trumpet and spiral decoration.

The accomplished decoration and casting is exceptional and is at the pinnacle of Irish art. In this respect it shares qualities with aristocratic pieces such as the Londesborough brooch, also in The British Museum. The battered state of this boss can only hint at what must have been a magnificent shrine and shows years of use as the backplate to a door handle.

Diameter: 13.5 cm

Gift of H. Oppenheimer

M&ME 1916,7-5,1

Department of Medieval and Modern Europe (study collection)



more british theft of Irish cultural treasures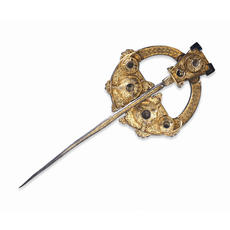 The Londesborough Brooch

Ireland, 8th- 9th century AD

Outstanding Irish brooch from Lord Londesborough's collection

This silver and gold brooch belongs to a 'Golden Age' in Irish art, which saw the production of the finest jewellery worn by people of rank and wealth. Evidence from sculpture and literature suggests that brooches like this one were used to fasten cloaks, and worn by both men, at the shoulder, and also by women on the breast.

The Londesborough brooch is unusual in that all its fine decoration is cast and no filigree was used. The three domed bosses look like miniature shrine fittings, which suggests that it may have been made for a senior churchman. Its original find spot is not known.

The brooch is a heavy silver ring cast with complex patterns of interlace, spirals, animal and bird motifs and then thickly gilded on the front. Seven circular amber settings on the hoop compliment the gold. The use of chip-carving, best seen on the panels of interlace, adds to the glittering surfaces. The pin was made from three pieces and the head is decorated in a style to match the hoop, with a large domed boss and amber at its centre. Two L-shaped fields at the top corners once held blue glass. The back of the brooch is also decorated with amber and has as well two inset gilt-bronze discs with Celtic triskeles.

The rich mixture of motifs on the Londesborough brooch is typical of the finest Irish work of the eighth century. It is known as the Insular style and combines Celtic, germanic and classical elements.

Alfred Denison, 1st Baron Londesborough, collected classical, medieval and Renaissance pieces in the 1850s and presented a notable collection of rings and brooches to his wife, including medieval Irish and Anglo-Saxon items.

Length: 24 cm (pin)

Diameter: 10.2 cm (hoop)

Weight: 201.5 g

M&ME 1888,7-19,101

Room 41, Sutton Hoo and early Medieval, case 27, no. 11



more british theft of Irish cultural treasures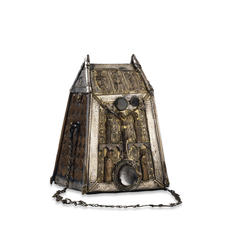 St Conall Cael's bell

Irish, 7th-9th century AD (bell), late 10th-11th century AD (brass mount)

From Inishkeel, County Donegal, Ireland

This iron hand bell is said to have originally belonged to St Conall Cael in the sixth century. Long after his death it was enshrined as a relic in an elaborate covering, and was worshipped by pilgrims visiting St Conall's well on the island of Inishkeel.

The bell is an early type made from a sheet of iron, its handle and loop for the clapper are missing. A plate of brass decorated with native Irish and Viking interlace ornament was added around the year 1000.

In the fifteenth century an ornate silver 'bell shrine' was made to protect and embellish the bell. This bell and its shrine, like most Irish reliquaries, were preserved by keepers who were the descendants of the stewards of monastic lands. Many like St Conall's bell were sold to collectors in the nineteenth century.

Relics associated with the early Irish saints were believed to hold miraculous powers and were much revered in the medieval church in Ireland. Oaths were sworn upon them and curses were cast using them. Water drank from ancient bells was believed to cure a wide variety of illnesses.

Height: 17 cm

Width: 12.8 cm

Gift of Sir A.W. Franks

M&ME 1889,9-2,22

Department of Medieval and Modern Europe (study collection)



more british theft of Irish cultural treasures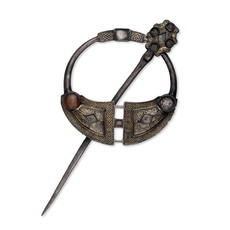 Silver ring brooch

Irish, 9th century AD

From Tara, County Meath, Ireland

Weighted to give a false impression of value

This handsome brooch is said to have come from the ancient royal site of Tara, County Meath, in Ireland. But all we know for certain is that came into the collection of Thomas Bateman, the pioneering Derbyshire archaeologist, in the nineteenth century.

The brooch was cast in silver before the addition of gilding and amber and there may once have been panels of gold filigree work in the three empty lozenges. There is no catch plate so in use the brooch works as a pin with a huge disc head. The form is typical of Irish jewellery in the eighth and ninth centuries.

The fine, repetitive interlace and style of the little animals in the central panels suggest a date in the ninth century, a period when Viking activity made silver and Baltic amber more abundant. Empty recesses on the back may have been filled with lead to falsify the weight (this is seen also on the great Londesborough brooch). The style shows the influence of contemporary continental animal art.

Diameter: 7.6 cm (hoop)

Length: 15.5 cm (pin)

From the collection of Thomas Bateman

M&ME 1893,6-18,29

Department of Medieval and Modern Europe (study collection)




more british theft of Irish cultural treasures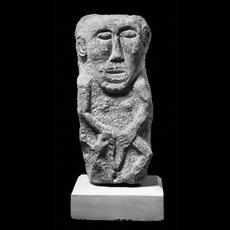 Sheela-na-Gig

11th-13th century AD

From Chloran, County Meath, Ireland

Sheela-na Gig is probably a corrupt version of the Irish meaning 'old hag of the breasts' or 'of the hunkers', referring to the figure's typical pose with bent legs. Over one hundred figures like this one have been recorded in Ireland and over forty in Britain. They are commonly set above doorways and arches, sometimes on castles but mostly on Christian churches and monastic buildings. The size, style and quality of carving are variable but the pose and display of genitalia unmistakable.

The ancient meaning or function of these figures is not well understood. They are usually interpreted as protective images, or as reminders of the grossness of lust. More benign subjects, placed in obscure corners, might have been intended to aid fertility. Their survival through centuries of reform and enlightenment is remarkable and suggests considerable local attachment to these powerful images for undocumented reasons. From the sixteenth century there are many records of destruction or orders to do so and several carvings have been reused as building material.

M&ME Witt 258

Department of Medieval and Modern Europe (study collection)



more british theft of Irish cultural treasures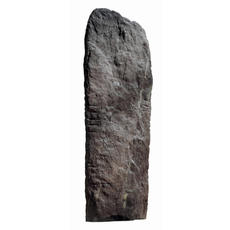 Sandstone memorial slab carved with Ogam script

Irish, 5th century AD

From Roovesmore Rath, Aglish, County Cork, Ireland

The earliest Irish writing

This rough sandstone slab is inscribed in ogam script along the vertical edges. It reads 'VEDACUNA [MAQI] TOBIRA MUCOI SOGINI', meaning '[stone] of Vedac, son of Tob of the Sogain' in Primitive Irish. It dates from the fifth century AD, before the widespread introduction of the Latin alphabet in Ireland. It is the earliest reference to the Sogain, a people known from later records.

The basic twenty-six ogam letters are formed by groups of lines and notches cut on a stem line. It is usually read upwards, but here it runs down one side and up the other. Ogam script was invented in southern Ireland around AD 400 and was used for simple inscriptions to record names and kin-groups in early Irish. Such stones marked boundaries and burials and are the earliest local records of the language and peoples of Ireland.

This stone, together with two other large ogam stones, comes from a rath or stone-walled homestead, in County Cork. They commemorate members of local groups of peoples also known from placename and early historic evidence. The stones had all been reused, perhaps in the ninth century, as roofing slabs for an underground chamber, suggesting that even at this early date these monuments had lost their meaning in the local landscape.

In 1865 the inscriptions were noticed and the stones removed by Colonel Augustus Lane Fox, later better known as the archaeologist General Pitt Rivers. He published a detailed account with drawings of his work.

Height: 2.1 m

Gift of Colonel Lane-Fox (later known as General Pitt-Rivers)

M&ME 1866,5-11,2

Great Court concourse, east side



more british theft of Irish cultural treasures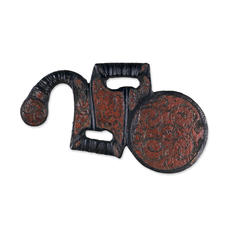 'Latchet' dress fastener

Irish, 6th-7th century AD

From Castle Island, Dowris, County Offaly, Ireland

Badge or brooch?

This strange shaped object was found in 1850. It consists of a large disc attached to a Z-shaped section, which forms two open slots, and terminates in a hook and smaller disc. Such pieces, incorrectly called 'latchets', were a form of dress fastener attached by coils of wire in the slots between the discs. They are only found in Ireland and remained popular only until the seventh century. They may have been worn in pairs.

Earlier latchets, some of which can be seen in the British Museum, have a more fluid open S-shaped body joined to the large disc. Some of these still have spring-like wire coils attached, and these may have been pushed through or sewn onto the fabric of a garment. The lavish use of red enamel and very finely worked spirals makes this an exceptionally fine piece and one that would have marked the importance of its owner.

Length: 7.4 cm

formerly 41/39/13

M&ME 1854,7-14,97

Department of Medieval and Modern Europe (study collection)



more british theft of Irish cultural treasures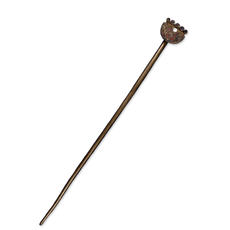 'Handpin'

Irish, 6th-7th century AD

From Craigywarren Bog, Skerry, County Antrim, Ireland

Long pin with a head resembling a hand

This decorative bronze pin is so big it would have been worn on a cloak. It is a fine example of a distinctive medieval Irish pin type. Handpins were in fashion from the fifth to the early seventh century. The name comes from the idea that the projecting tubes at the top are like fingers and the lower part resembles the palm of the hand. Here the palm has a curving pelta-based design set against brilliant red enamel. A herringbone pattern runs around the edge. The central hole held a cord used to twist round the tip of the pin to secure it when it was in use.

The bold use of red enamel is a special feature of Irish and British fine metalwork in the early middle ages. These pins were worn at the same time as big, enamelled, open-ring brooches. Some are also known to have been made in west Scotland, which shared the same cultural traditions.

Length: 23.4 cm

Gift of Sir A.W. Franks

M&ME 1880,8-2,132

Room 41, Sutton Hoo and early Medieval, case 26, no. 22



more british theft of Irish cultural treasures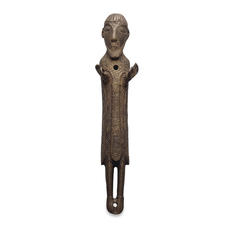 Bronze shrine figure

Irish, early 12th century AD

From Dublin, Ireland

Said to have been found on the site of the monastery of St John

Similar figures to this can be seen mounted on the twelfth-century shrine of St Manachan kept in Boher Catholic Church, near Clara, County Offaly. It is likely that this figure had the same purpose and was attached to a shrine by rivets through the holes piercing its breast and feet.

The bearded figure has been cast in bronze and depicts either an apostle or a saint. He is dressed in a bishop's robes, which are decorated with fine scrolled spirals, and geometric patterns. The arms project from the slender body and the hands hold a holy pose with the index finger and thumb touching.

Although the decorative detail on this figure is essentially Irish, the form of the figure shows the influence of Romanesque art from continental Europe. It reflects a period of contact overseas and local reform in the church in Ireland, when a regular pattern of bishoprics was established.

Height: 18 cm

Width: 4.3 cm

M&ME 1868,7-9,52

Department of Medieval and Modern Europe (study collection)



more british theft of Irish cultural treasures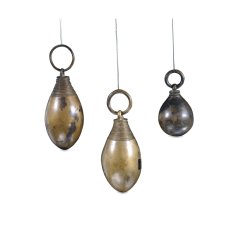 Three bronze rattle pendants

Bronze Age, 950-750 BC

From Dowris, Co. Offaly, Ireland

Rare 'musical' objects of the Bronze Age

These unusual objects are known as 'crotals' - globular or pear-shaped bells or rattles. They may have been rather heavy for suspension from straps, for example on horse harnesses, and instead may have hung from a rigid support, such as the draught-pole of a wagon. In this way the sound produced while in motion, while not very 'musical', would nevertheless draw attention to and enhance the procession of the wagon. As wagon accessories, crotals join other ornamental bronzes in embellishing wheeled vehicles in this period.

Crotals were cast hollow by flowing the molten metal around a clay core suspended within the mould. A small perforation was left in one side of each orb to allow the clay core to be scraped out, leaving behind only a small lump of bronze to serve as the rattle. The hole was then blocked with a metal plug. The initial casting also created a free-running ring at the top of each crotal for its suspension.

These three crotals were part of a large find of bronze metalwork made in Dowris bog in the mid-nineteenth century, which included weapons, tools and elaborate sheet metal vessels.

Height: 10.2 cm (min.)

Height: 17.2 cm (max.)

P&EE 1854 7-14 9, 13

Room 50, Later Bronze Age & Celtic Europe (gallery closed for refurbishment until 2007), case 3



more british theft of Irish cultural treasures

Most of the theft is not even given a mention of how it came abouts (they presumably knows it is regular 'plunder') but now and then



Quote:

In 1865 the inscriptions were noticed and the stones removed by Colonel Augustus Lane Fox, later better known as the archaeologist General Pitt Rivers.

Alfred Denison, 1st Baron Londesborough, collected classical, medieval and Renaissance pieces in the 1850s and presented a notable collection of rings and brooches to his wife, including medieval Irish items.


This handsome brooch is said to have come from the ancient royal site of Tara, County Meath, in Ireland. But all we know for certain is that came into the collection of Thomas Bateman, the pioneering Derbyshire archaeologist, in the nineteenth century

n 1865 the inscriptions were noticed and the stones removed by Colonel Augustus Lane Fox, later better known as the archaeologist General Pitt Rivers.



and best of all


Quote:


This fine crozier was found without explanation in a solicitor's office in 1850, and was owned by Cardinal Wiseman before purchase by The british Museum in 1859.



more british theft of Irish cultural treasures
And for those interested in pre antiquity of any kind

Note this is typical of the elaborated ignorance guesswork that ends up as a presentation of knowledge (presumably to portray some notion of credibilty! )



Quote:

These unusual objects are known as 'crotals' - globular or pear-shaped bells or rattles. They may have been rather heavy for suspension from straps, for example on horse harnesses, and instead may have hung from a rigid support, such as the draught-pole of a wagon. In this way the sound produced while in motion, while not very 'musical', would nevertheless draw attention to and enhance the procession of the wagon. As wagon accessories, crotals join other ornamental bronzes in embellishing wheeled vehicles in this period.



In other words

They dont know

But!! Ye can never sort of 'own the right' to something ye have no idea about


All part of the 'image' of stolen goods presented in a museum as culture, and 'theirs' as well


more british theft of Irish cultural treasures

Begrudgingly Ye have to sort of admire the sheer arrogance of it all. Stolen loot from around the world presented in the 'british museum.

Mind ye just like them british! If he had of gotten away with it all, by now we would of had the Al Capone memorial institure for fine art.

or Capones Regal Order Of Knights Superior

Or



CROOKS



At least they were honest easy to spot crooks though

more british theft of Irish cultural treasures
From a project by Mr John Sheehan
Department of Archaeology and Prof Peter Woodman
Faculty of Arts, based out of UCC (university College Cork)



Quote:

One of the largest antiquary collections was that amassed by William J. Knowles of Co. Antrim. Throughout his life he may have amassed and dispersed in various ways over 50,000 artefacts. This culminated in the sale of 30,000 items at Sotheby's in 1924. A large section of Knowles' collection was acquired by Alexander Keiller, who returned it to the National Museum of Ireland in 1938.
This collection which contained 15,000 objects has been catalogued with the help of The Heritage Council Keiller Knowles Project but this only forms the first stage in an effort to trace where much of Knowles' material ended up.
Barbed and Tanged Arrowhead From this collection we can reconstruct where many objects were first discovered and the types of landscape in which different prehistoric communities lived.






Quote:

J. J. A. Worsaae

J.J.A. Worsaae Jens Jacob Asmussen, born March 14 1821 in Vejle (Denmark), died August 15 1885 at Copenhagen, was an archaeologist and a principal founder of prehistoric archaeology.
Introduction

Worsaae, under the commission of Christian VIII of Denmark, spent nine months travelling around Britain and Ireland during 1846 and 1847. One of the most famous Scandinavian antiquarians of the nineteenth century, he had spent time visiting Sweden, Austria, Germany and Switzerland during the preceeding years. The terms of his royal commission, as they related to his tour of Britain and Ireland, primarily focused on an investigation of the Viking-age antiquities and monuments of Scandinavian character.

During his stay in Dublin Worsaae appears to have visited the location in the Kilmainham-Islandbridge area where an important series of Viking graves had recently been discovered. He obtained a number of artefacts from this site, some through the offices of the Royal Irish Academy, and also amassed a collection of antiquities from elsewhere in Ireland through his connections with dealers such as James Henry Underwood, of Dublin, and Whyte Baker, of Callan, county Kilkenny. These artefacts were sent by Worsaae to the Museum of Northern Antiquities, Copenhagen (now the National Museum of Denmark), where they remain. In addition, he arranged for James Plunket to prepare a series of watercolours of artefacts in the collections of the Royal Irish Academy. It is these watercolours, which are also housed in the National Museum of Denmark, which form the basis of this research project.
The Worsaae Watercolours

These consist of a collection of twelve large drawings,each measuring c.67cm by c.100 cm, and numbered I to XII. On the lower margin of each in written: 'Presented to the Royal Museum of Northern Antiquities of Copenhagen by the Royal Irish Academy. Dublin 11th January 1847. E. Clibborn, Curator of Museum.' In general, the items depicted in the watercolours are arranged by type and period. For instance, no. II consists mainly of Bronze Age weapons, no. IX consists exclusively of Bronze Age gold ornaments and no. X consists of a mixture of Early Medieval and Viking-age silver objects. The objects are drawn to full scale with great attention to detail and are beautifully coloured.

Aside from their artistic value, the Worsaae watercolours are important because they evidence some of what the Royal Irish Academy's collection of Irish antiquities contained in the mid-nineteenth century. There are few registers in existence from this time and little is on record concerning these early finds in the known antiquarian sources. More importantly, there are annotations concerning the find-provenances of some of the artefacts added to some of the drawings. These will enable previously unprovenanced objects in the national collections to be identified and provenanced.



more british theft of Irish cultural treasures

Yes it is obvious they are so very particular, so the british museum are


Those who might live over there and 'fall for that type of self promotion' and the gullable around the world who fall for the 'antiquity of 'british and it not being a plundering franchize

The facts don't!

What folks want to remember most is the idea (let alone actual) of a race called 'british' never even existed until the 18th century! And yet the british museum uses words to justify many of these and many other pieces! from pre history


Like McDonalds taking credit for the cow

Words like typical British art or similar british finds

Amazing how unparticular they can be!

British or Britain never even existed when any of these works were made by natives of Ireland in the landmass that is surrounded by water.

Theft it is! just not common (as in this is very elaborate) theft!

Let's see if we can start something postitive, a wrong put right.

When ye get a moment try and find any Irish exhibit the British museum has and post it here.

If we can get this list up and show how much has been stolen I will post it to every Irish newspaper and start A fuss that the Irish Goverment could not apparently give a shite about starting.

OUR ANCESTORS CULTURE.

Not british or English,

Our Island of Ireland Irish culture!

we want it back

Well now the sad thing is the loot is among such vast stores that ye would not know what they had.

I believe the figure is for every exhibit on display in the british museum they have well the words were of one frustrated curator 'several hundred' just sitting in dark cellars with no room for display on a permanent basis.(many are never seen)

So that is not just theft it is immoral! and a disgrace to human culture.

In the Irish case, our art and cultural items.

These were not stolen from Irish museums, these were stolen from the soil, churches, buildings and from Irish people throughout the past several hundred years.

Now of course there is a fine line between where do ye start and end, do we likewise give Dublin castle back to the British, (not that the british built it as they as a system never even existed then) and other castles because they were Norman built (often on Irish backs of slavery), well that is not gonna be easy as it is a building! besides if so they would have to give them back to the French who conquered their land and were the Norse men normans.

No its not as foolish a plan as that, it is about fairness, items that can be easily handed back to their rightful place of origin.

art, jewels, books and such

For instance an ancient glass object made in Ireland belongs in Ireland.

I am all for Ireland giving objects back (and she has many, by default of Irish involved in colonial exploits, exploits as in exploitation) as well; we have no right to aboriginal or African artifacts, without consent of the maker. If the maker cannot be ascertained! then the people by default of their government must say it is ok for us to display the act of theft and not just display it but as in the british museum case imply that it is british culture.
Not so much proud of theft and claim it as their own, as the lies and myths run so deep as theye now believe the fantasy themselves and see no wrong in it.
But curiously they do when the Nazi system did the same with the treasures of lands they invaded and brutalised, that is somehow different.

If ye took the foreign made exhibits out of the british museum it would not be empty as there are plenty of ancient and cultural artifacts for show, the people of that land would also then be able to understand their own true cultures.

Not a mythical one that claims glory upon the force theft of others cultures.

grate britain Laughing The notion is so perverse as to be almost sick!

Great at what?

copying the Romans and other Imperial cultures, adapting their brutality and law making to enforce humans to conform and sponge off their toils.

wow what an achievement for humanity that copying was! truely deserving of great

Mabe they mean great as in how the system thought up new plans,

like them and the Portuguese that transported maybe a hundred million African salves to the Americas (ye know before they got all coy and anti the practise- ye know after!! they made the equivelant of BILLIONS of pounds in todays money- where the feck do folks think the windsors got the money for such a palace!!)

Or the Concentration camps of Africa (Boer war being a classic example) where they showed nearly half a century before the German Nazi system how to cope with a populace.

ilustrating for future ones how to build empries, was that great, or was it the effective acts of drug dealers or mafia thugs but dressed up in silks!

if the vermacht had of won

do folks think that they would be called 'average Germany'

The british system entitled itself that word great and did so by using the exact same methods the Germanic cousins in another royal parstitical system (that by then had like wise amalgamted many cultures into a new one- a franchise) tried to copy.

Hitler can be seen as a Cromwell, a product of a system that saw other human beings out of Germany as less.