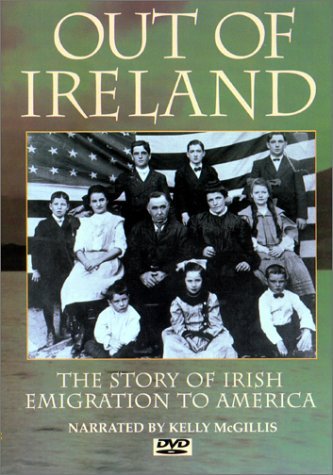 Out of Ireland

Out of Ireland Irish Movies Reviews:



Actors: Gabriel Byrne Brenda Fricker, Kelly McGillis, Liam Neeson, Aidan Quinn


Out of Ireland Reviews: Excellent History Of the Irish in America
Comment: The journey of Irish men and women forced from their own homeland to avoid starvation, religious discrimination and slavery by the British. Even when arriving to America they were treated as second class citizens and forced to fight in Lincolns' dirty little war. It's the story how an uneducated group of people who were once slaves, helped build a great nation, ran major cities built great canals and populated the country side. It's a must for any Irishman Or woman to pass down to their children to keep the history of the green alive. Also pick up the soundtrack to this DVD it's great too.



Out of Ireland Reviews: Excellent historical overview
Comment: The video "Out of Ireland" narrated by Kelly McGills presents a very informative and an excellent historical overview of the experiences of the Irish in both the United States and Ireland. The story makes an extensive overview of the good and bad events surrounding the lives of Irish Americans beginning with the Battle of the Boyne and culmunating with an examination of Irish men and women who braved the trip over on not very sea worthy ships to start a new life in America. Every aspect is examined in detail with the use of top Irish and Irish American historians, some of which are unfortunately no longer with us. This tape would be an excellent addition to any library and would be an excellent learning tool to use in American, World, or Cultural Geography course.


More Reviews

Editorial Reviews:


The enormous story of Irish emigration is well told in this documentary that mixes an adept historical overview and deeply touching personal stories with well-chosen archival material and gorgeously filmed modern footage. The troubled history of Ireland is covered by way of explaining why millions fled their homeland, and deserved attention is given to the uprising of 1798 and the Great Famine of the 1840s. The flood of poor Irish to the New World and their struggles to assimilate and eventually triumph is told with excerpts of letters, some of which are beautifully read by the noted playwright John B. Keane. Musician and folklorist Mick Moloney appears frequently to offer apt anecdotes and appropriate snatches of song, and historians provide perspective on the poverty and political repression at home that forced the Irish to cross a dangerous ocean to find a better life. Representative 19th-century Irish immigrants who found new lives in places as diverse as Massachusetts and North Dakota are profiled, and the contributions made in American society by the descendants of the millions who left Ireland are noted. As a striking blend of solid history and resonant personalities, Out of Ireland is a thoughtful presentation that also happens to be a pleasure to watch.