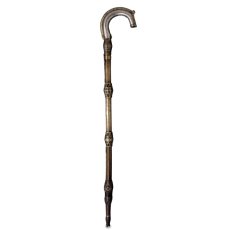 The Kells crozier
Ireland, late 9th-11th century AD
Irish religious relic found in London solicitor's office
This fine crozier was found without explanation in a solicitor's office in 1850, and was owned by Cardinal Wiseman before purchase by The British Museum in 1859. Originally it would have been venerated as a relic of a saint in the early church in Ireland, and also been a symbol of office for a leading cleric, possibly a bishop or abbot.
The appearance of the crozier today is the result of at least two periods of ornamentation as well as early attempts to dismantle or destroy it. The core is a staff of yew wood, now cut in two. This was first encased in bronze in the late ninth or tenth century when the staff was decorated with cast knobs (or 'knops') and cross-shaped strips. Raised borders divide the knops into panels filled with animal interlace, once covered with bright silver foil. The original bronze casing to the curved crook had a diamond pattern grid and animal ornament.
In the eleventh century the crook was given an outer casing of silver sheet and a new crest in gilded openwork of linked birds. A new knop decorated with black niello and silver inlay in the Scandinavian Ringerike style replaced an earlier one at the top of the shaft. The straight end of the crook is a feature of early Irish croziers, and like many others it was altered to form a hollow box with a human head above, to hold a holy relic. On the underside of the crook a silver strip engraved in Irish asks for a prayer for Cúduilig and Maelfinnén who were involved in the refurbishment. Although these names have been identified with individuals who were important at the great Irish monastic city of Kells, County Meath, recent work has questioned this connection.
Enshrining items which had belonged to holy men or their communities was an important feature of religious life in early medieval Ireland. Many of these shrines, like St Cuileán's bell, were preserved into modern times by the families of keepers who inherited this duty.
Length: 133 cm
M&ME 1859.2-21.1
Room 41, Sutton Hoo and early Medieval, case 29, no. 1