Dec 11, 2021
Like you said Brian
Too many of these trash allowed to come in, and the people of Ireland need to speak out.
Its nothing to do with race, its to do with no checks & human trash being allowed to come in and rape and target the vulnerable, as scum bag trash do.
Another scum allowed in & clearly very dangerous violent sick scumbag, & oh once again not the EU to blame. (unless he arrived here on a bogus EU passport)
Congo is not in the EU.
irishtimes.com/news/crime-and-law/courts/violent-rapist-who-offered-apology-on-his-knees-to-victim-loses-appeal-against-sentence-1.4752507
Hope the scumbag is on his knees in prison & then immediately dumped back to the Congo on release.
Sick of these do gooders extremists who demand we let them all in! these extremists in reality could not give a shyte about anyone, not unless they are a supposed poor immigrant fleeing in fear for their safety!!!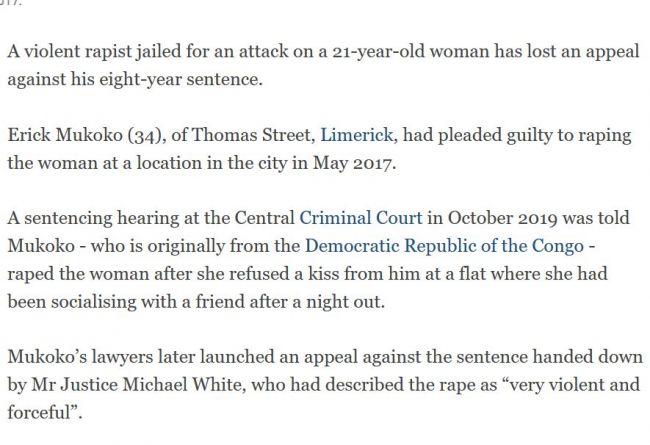 WARN YOUR KIDS TO BE AWARE WHEN OUT AND TO BE ESPECIALY AWARE & WARY OF FOREIGN MALES, SUPPOSED ENRICHING OTHER CULTURES!! SOME OF WHOM REGARD FEMALES AS SECOND CLASS, espically women that don't come from their such enlightened cultures.
As has been said we have enough of our own scum trash who think rape & abusing women or men or children is ok to do, we don't need any more & even more sick brazen scum, scum who clearly think Ireland & the Irish are easy targets.
at least a judge in Ireland made sure the people (native & immigrant aline) are safe for a number of years from this sick cowardly evil sex predator trash from Congo, lets hope the scum stays and rots in jail for the full sentence before being deported under new Irish laws that actually carry out checks who the hell is coming in some attempt to keep the people of Ireland safe.
Pakistani immigrant doctor sexually abused patients
sex predator gangs in Ireland targets vulnerable
fake Polish passport illegal immigrant predator
Ireland should not allow any EU free movement for immigrant criminals & serious sex predator
African immigrants non EU should not even be in Ireland
Irish in Ireland need to wake up to what's going on, amount of serious criminal immigrants carrying out serious life changing crimes agasint the people of Ireland
More we were led to believe were supposedly fleeing from persecution & torture or what ever BS !!!!
No checks going on! Ireland is failing its citizens, native & decent immigrant alike, all of them being failed by perverse representations and BS generic claims, that have made too many people scared of speaking out.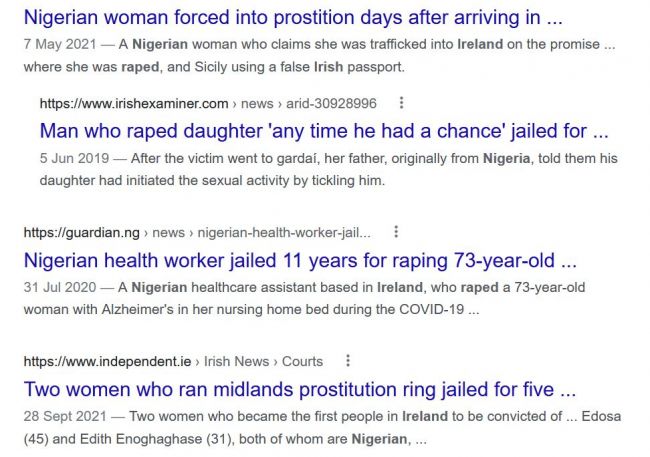 Its just great that so much of the publics hard earned tax money goes to legal aid and the solicitors who represent these trash. Not as if we have a shortage of resources for natives is it!

Its just great that so much of the publics hard earned tax money goes to legal aid and the solicitors who represent these trash.

Anyone would think those who make any complaint are just imagining IRELAND CAN NOT AFFORD THIS PERVERSE CARRY ON!
Homeless levels - schools & hospitals all public services at or near crisis point across Ireland - but yet politicians & the mainstream media encourage more & more immigrants! sure they are all just great & fleeing danger.
No checks needed- just cheques!
Ireland society is breaking down