before Russia decided to go into ukraine - the uk aka war monger weapons of mass destruction sell arms to anyone uk was - had been meddling in ukraine for years.



Quote:

prior to 2021 before "operation poke the bear" (actual name of british royal navy exercise of sailing purposely past crimea to provoke Russia,

"send aircraft purposely into black sea area to see how Russia would react, how stretched Russia might be!"

to quote commanding officer on board ship for tv reporter at time)
uk at it , stirring up hate divisions as per usual!!

quote from tv series The Warship: Tour of Duty - BBC Two aired 2023




even bbc says - Deliberate high risk ( perversely irresponsible in effect ) decision of british govt to provoke Russia!


acting on orders of british govt working on behalf of weapons of mass destruction industry.
low life bloated oaf boris johnson who systemically speaks the very opposite of truth, the very opposite of what that opportunistic parasite says will be closer to reality.

we Irish know all too well, how the uk secret services are a law only unto themselves & their perverse supposed crown, certainly not acting on behalf or answerable to the ordinary people there.

the uk has been a terrorist state in Ireland, creating manufacturing designing encouraging division terrorism when ever it saw a need or opportunity. every crime imaginable and many only a sick twisted british secret service agent mind could or would dream up.

Ireland has been no exception to the uks evil terror business for profits, crown govt sponsor of terrorists or their evil weapons industry sponsor of mass destruction of humankind
Britain stirred up tensions, chaos and violence in Africa, the Middle East and Asia

tony blair was just a recent example of a front for other forces a prime minister acting on behalf of / for the benefit of 'others' not the people of uk.

Most know this now, years after so many innocent Iraqis lost their lives.

But most of the regular people dont know yet that the same it seems completely unaccountable others have been up to for years in ukraine.

wealthy elites typically big energy corporations & weapons suppliers have perverted so called democracy , they own politicians who sanction approve all sorts of dangerous plays

they could not care less about Ukranian people any more than they once claimed to care so much for Afghans or Iraqis or Libyans or you name it!!


Evil Corrupt to the core.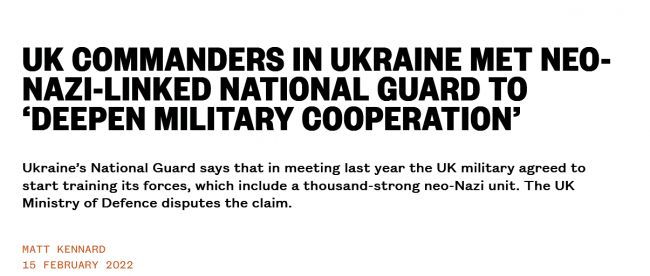 Photos of meeting in Kyiv September 2021 – which UK personnel thought was private – were posted by Ukraine's National Guard (NGU)


uk intentionally stirring up conflict, purposely sailing across and past crimea! as they sell weapons of mass destruction 2021